Cameron and Katie are friends of Victoria from High School, and after graduating from college just a week before their wedding, I guess you can say they had a bit of a stressful situation. But what I love about Cameron and Katie is they didn't let the stress detract from their perfectly awesome day. Sure, parking may have been a bit tough because the street fair in Ocean Beach pushed its date back until the wedding day, but they made the best of it and we got some really fun photos.
One thing I try to do is obviously get clean, isolated photos to really fit my simple and elegant style I feel is consistent with my favorite style of photography, but I also try to include elements from the day that really help everyone remember exactly what the day was like. If that happens to be thousands of people walking by your wedding reception, or airplanes flying overhead while you are saying your vows, I do my best to portray that in a few photos as well. Anyways, back to Cameron and Katie.
Their wedding fun started out at the wonderful Ocean Beach Hotel where they both got ready in their respective rooms. Katie obviously had the suite.
The reception gear - Purple Converse and bow tie.
While we were waiting for the limo bus to take the guys to the ceremony, we ran across the street and found this character.
After the guys left, we headed over to see the girls.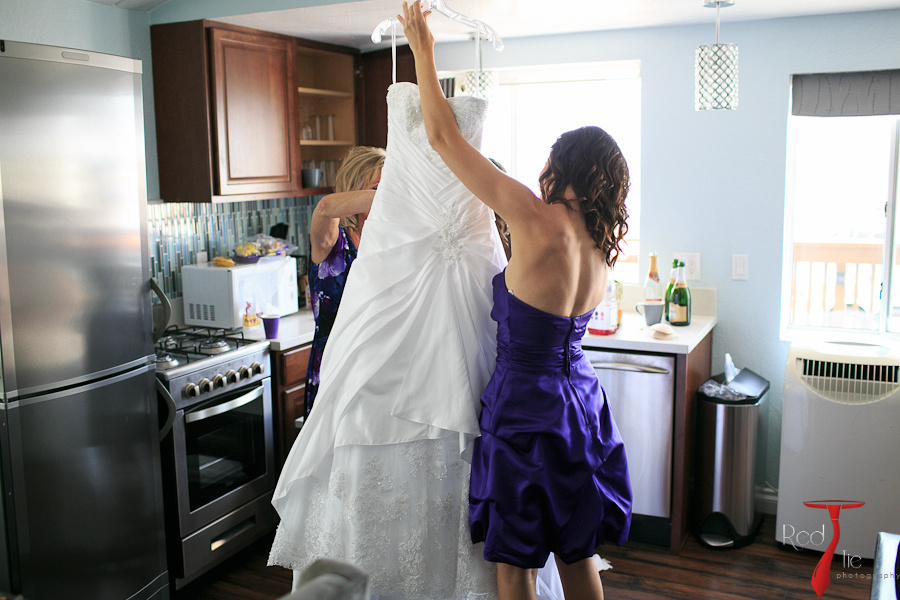 It was an emotional time for Mom.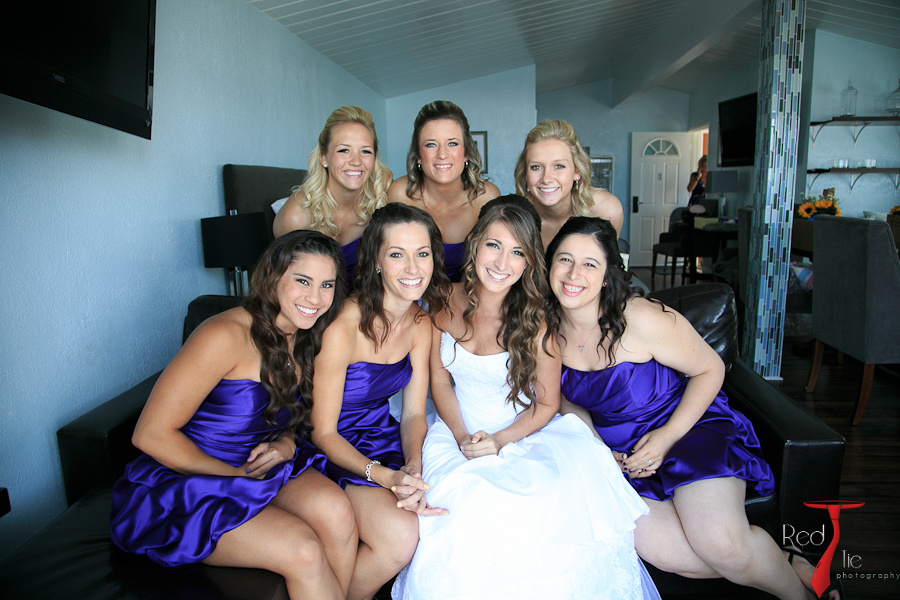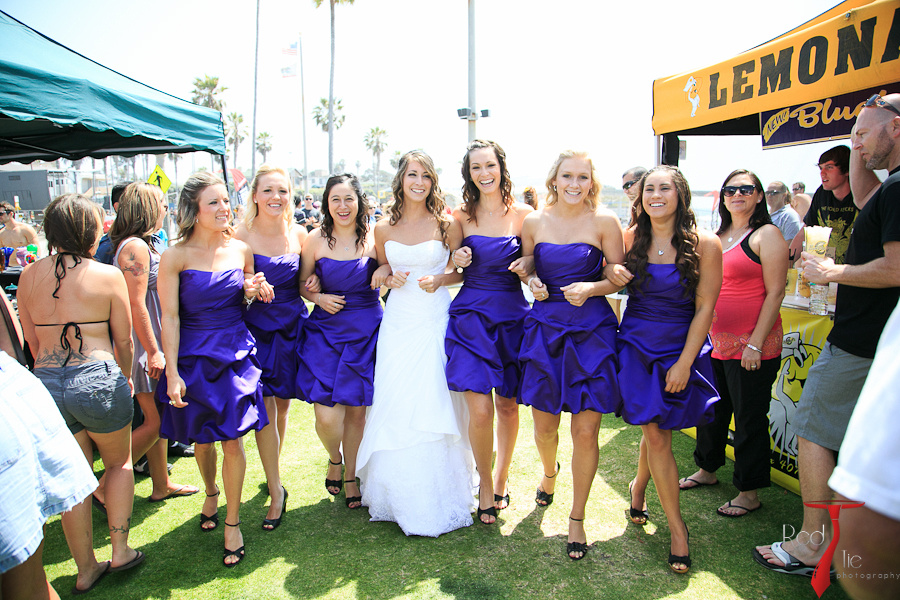 Look familiar?
On the bus we played a little Catch Phrase
Shortly after the bus ride to Balboa Park Administrative Courtyard where the ceremony was held, Cameron watched as his bride was escorted down the aisle by her grandfather.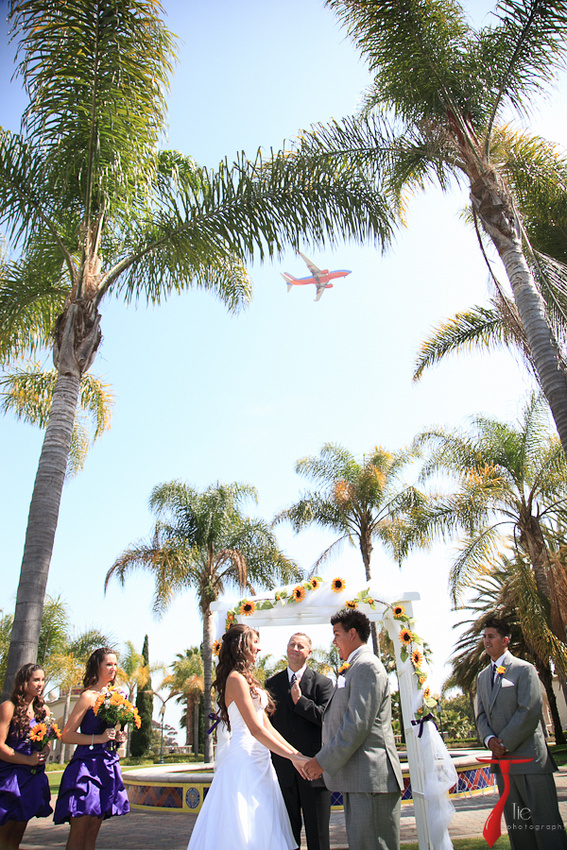 I am really happy how I am photographing formal photos now using a strobe to help overpower the sun. This gives us beautiful backgrounds as well as people (and incredibly cute children).
Here is a great example why I like to use my strobe. The first shot below I turned the strobe off. The second shot was with the strobe turned on.
Doesn't Katie make a beautiful bride?
And Cameron an extraordinarily handsome groom?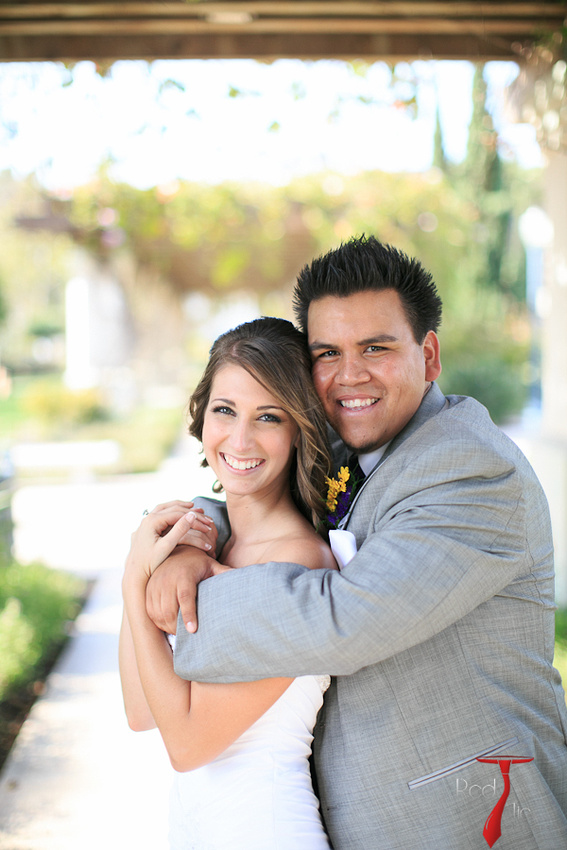 Poppin' Champagne
The reception was all smiles!
Cameron and Katie asked me to do one of my favorite things as a photographer - to go out during the reception and take a few more portraits of just the two of them. I love doing this because it gives us a few more minutes to take some portraits, play with the fun surrounding lights, and the stress from the wedding day has worn off.
Thank you Cameron and Katie for including me in your celebration. I had such a great time with you.