Chris Koci and Kristen Anderson tied the knot on February 11th, 2012 at the Thursday Club in Point Loma, San Diego California.
Now where do I begin? This wedding was very special for me, seeing that this couple was my brother and new sister in law. Of course, when my brother told me he was getting married, I told him to let me take care of the photography.
After a series of unfortunate circumstances with other photographers that I had lined up, I told Chris and Kristen that I would be the one photographing their wedding (in addition to my previous agreed position of being a groomsmen). Everything I have read has told me to stay away from photographing family weddings, especially if I was going to be in the wedding myself. Well, needless to say, I ignored that warning and am so glad I did. It was one of the most fun weddings I have photographed in my life.
I was lucky enough to have a team of kick ass vendors, to whom I would like to gratefully thank for being their for my brother and new sister.
Coordinators: Jenn Mobley from Eventity Inc.
Officiant: Bethel from Ceremonies by Bethel
Caterer: Wahoo's Catering
Cake: Flour Power
DJ: DJ Average Joe from JMC Events
Video: Patrick from Anibaldi Wedding Video
Last but not least, I would like to thank Kevin Nguyen from PhotoQuest Studio for helping me out throughout the day. He had a bit larger role than being just a second shooter, and was able to lead shoot the ceremony and most of the open dancing for me.
Thank you all so much again.
Anyways, on to the photos that I promised!
I started off the day getting ready with the guys, and I literally mean getting ready with the guys (seeing that I was a groomsman as well). Here Chris is getting all suited up.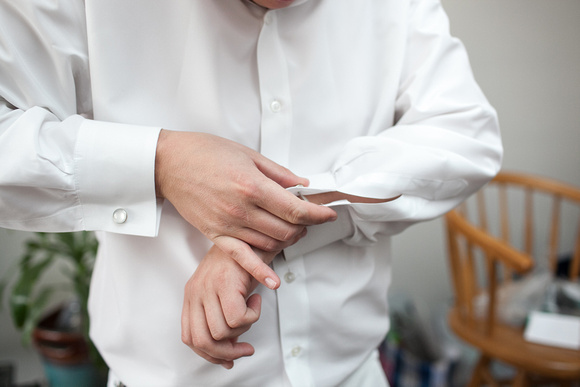 And I just love this photo with the painting Kristen did of a Cow's backside.
Chris and Kristen are animal lovers, and here is the kitty they rescued from my house, currently renamed Roo after I had given her the name Porch Kitty.
Instigator!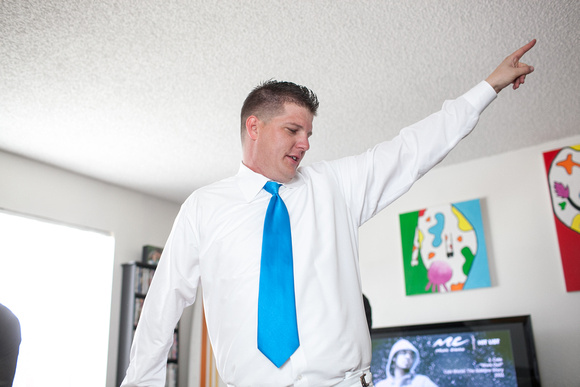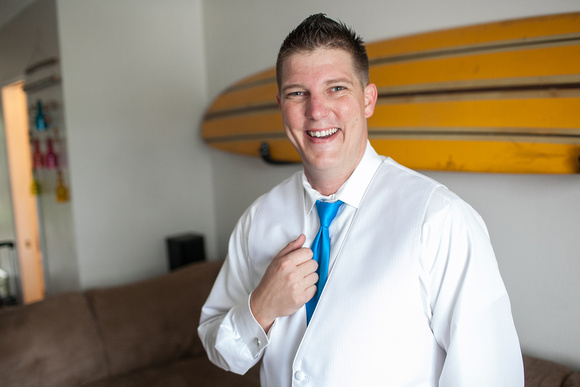 Seeing that Chris likes to drink, I found this quite fitting.
Now over to the girls. Kristen was dressed and ready for photos when I arrived, and she was such a beautiful bride. Here are a few photos with her and her bride's maids.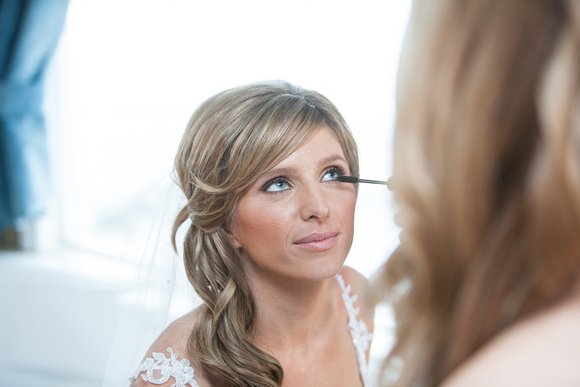 Why, of course they are wearing Cowboy boots. Kristen wouldn't have it any other way.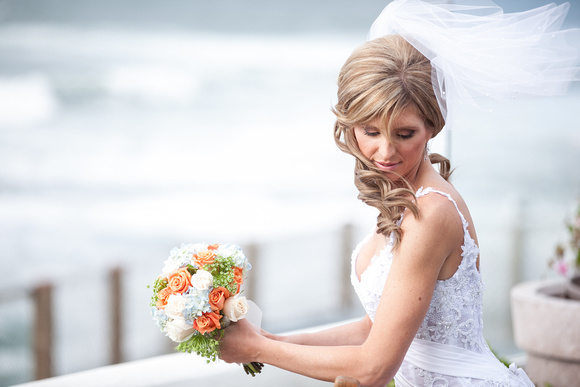 And this handsome fella is me! I know, I am not wearing a Red Tie, but even though the colors of the wedding didn't match with my branding, I still agreed to shoot it. Aren't I such a great guy?
Chris and Kristen decided to forgo a first look and see each other for the first time at the ceremony. Kevin played a huge role at this part of the day and got some great captures. And yes, if you must know, I still did decide to shoot the ceremony from the front of the ceremony in my groomsmen line.
Another of their furry faithful friends (or as most people call them, pets) Buckshot was their ring bearer.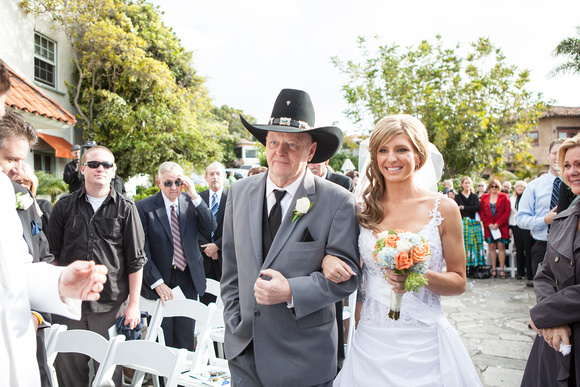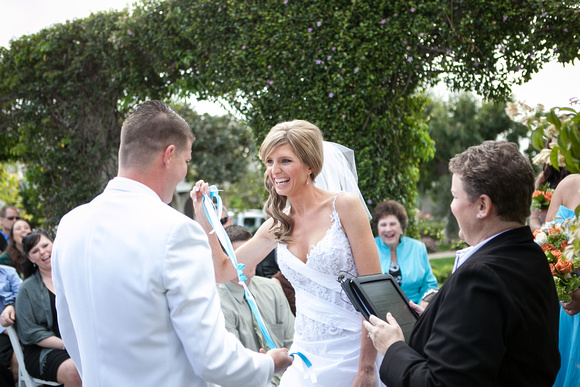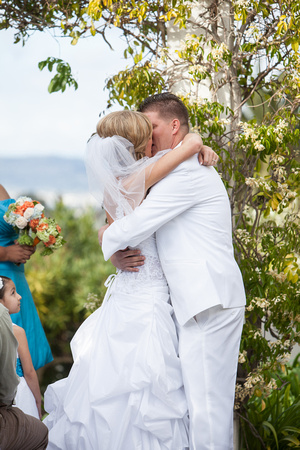 For all of you with good eyes, you may be able to see me shooting in the background. I could edit that out, but I think I like it.
We were pressed for time, but still got some fun full bridal party shots!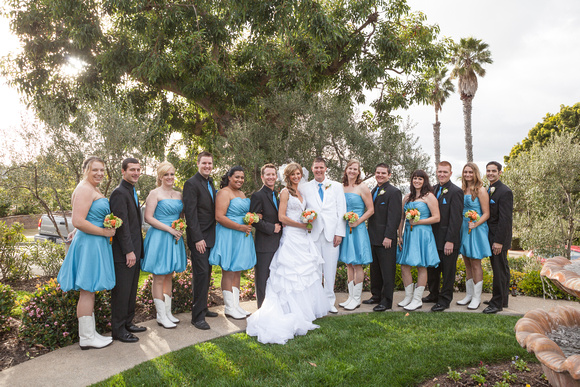 And of course, a nice portrait of Mr. Buckshot.
The Chris and Kristen took her Grandfather's 1931 Ford Model A to their romantic session at Sunset Cliffs Park.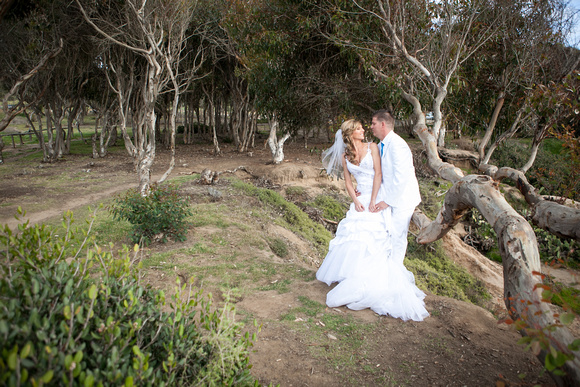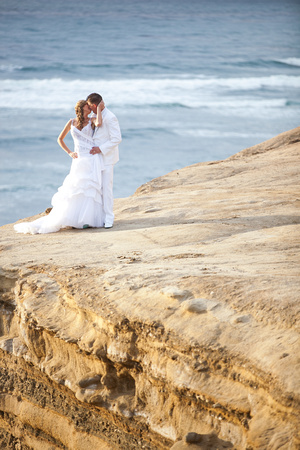 The reception was beautiful, with man hand made decorations.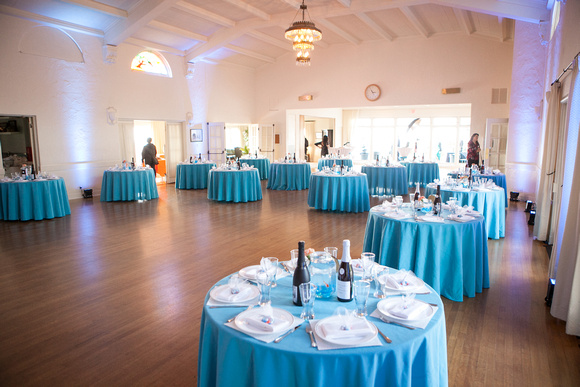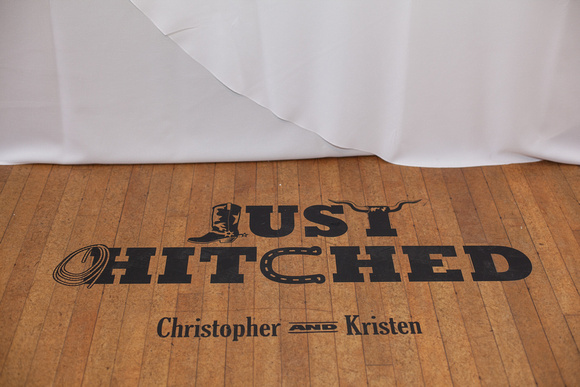 Buckshot wanted to help with the garter.
There are many, many more images in the gallery (including the Photo Booth and their engagement session) located here: http://redtiephotography.zenfolio.com/olaf
Again, it was a pleasure photographing this wedding, and I hope they enjoyed it as much as I did.