Ashly and I went to high school together, and she even cheered with Victoria while at West Hills. Last year, Ashly married Gabriel Baker, and shortly theirafter they were happily expecting their first child.
Although the best time for a session is the first 7-10 days after the baby is born, the first time we could get together for a shoot was last week, almost a month after Greyson was born. He has learned a few things that seemed to impede our progress, especially that he liked to be held, but all considered, this little guy was a good sport.
One thing that I am trying to do is actually come to people's house to take portraits of their children. I find this makes both the parents and babies much more comfortable and there is everything you need at your fingertips.
Although Greyson was awake with no intentions of falling asleep anytime soon, we managed to get some cute photos of this little guy.
Please enjoy.
He has the biggest blue eyes!
Ashly hand made his little owl-diaper cover.
Such a cute family!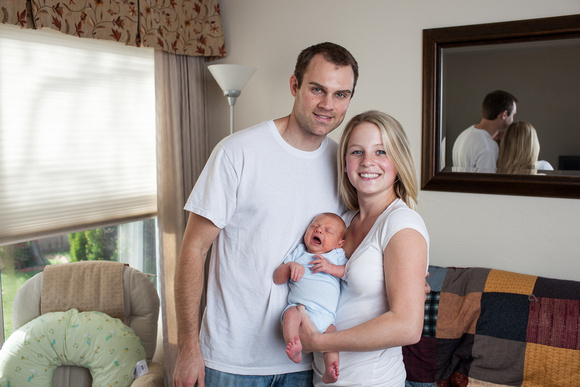 Thank you guys again. I really enjoyed it!